Orange County has been a pioneer in easy and transparent voting. You automatically get a vote-by-mail ballot, and you can mail it back or drop it off securely. If you're registered to vote, you should have received your ballot by now. If you haven't, first check your registration to ensure your status is active, then track your ballot.
Ballot Drop Boxes
Beginning on October 5, there are 116 secure Ballot Drop Boxes available throughout Orange County (find one close to you here).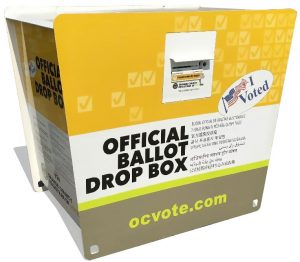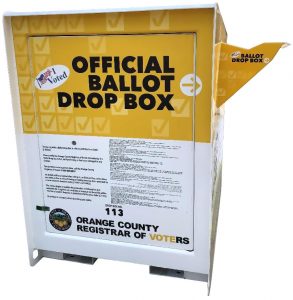 Vote Centers
You can also vote in-person or drop off your ballot at any of 170 Vote Centers in Orange County.
Pop-up Vote Centers in Orange County open starting October 24.
All Vote Centers will be open beginning Friday, October 30, including the "Super Site" Vote Center of The Honda Center in Anaheim.
Vote Centers will be open every day from 8 AM to 7 PM during the early voting period. On Election Day, November 3, Vote Centers will be open from 7 AM to 8 PM.
Need a replacement ballot?
You can request one online here, or visit any Vote Center.
Handy links for voting in OC:
Vote Centers and Ballot Drop Boxes in Southern California